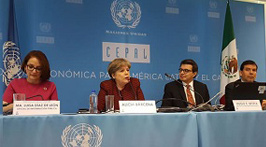 ECLAC highlights the relevance and opportunity to strengthen the ties between China and Latin America and the Caribbean
The Economic Commission for Latin America and the Caribbean (ECLAC) reaffirmed today its permanent commitment to strengthening ties between the region and China, in all its dimensions, during the Second Meeting of Ministers of Foreign Affairs of the Community of Latin American and Caribbean States (CELAC) and China, in Santiago, Chile.
During the meeting, which involved representatives of 31 countries in the region plus China, Alicia Bárcena, Executive Secretary of ECLAC, highlighted the strong commitment of the Asian country with the pursuit of economic growth focused on shared prosperity, the fight against poverty and inequality, protection of the environment and the principles of the 2030 Agenda for Sustainable Development.
Before the authorities, the high official of the United Nations presented the document Exploring new spaces of cooperation between Latin America and the Caribbean and China in which ECLAC analyzes the joint journey since the first meeting of the CELAC-China Forum held in 2015 in Beijing , and the evolution of commercial, financial and investment relationships. The report also compares macroeconomic, environmental, infrastructure, science and technology and social development policies.
https://www.cepal.org/es/comunicados/cepal-destaca-la-relevancia-oportunidad-estrechar-vinculos-china-america-latina-caribe